Company History
Sails East Sailmakers Hong Kong changes hands.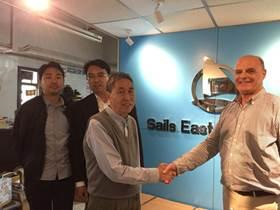 Ben, John and Jason Hung signed an agreement on the 1st of March 2019 with Bruce Hobday to sell Sails East to a small group of investors headed by Bruce.
This is a land mark for sails East as it ensures the Sails East brand and sail making heritage will continue to develop during the coming years.
Bruce, well known among the international sail making community, is excited about the perspective of continuing the Hung family's efforts to bring Sails East to the next level, this on both commercial and technical fronts. Bruce intends to strengthen Sails East in its current business model while diversifying to other sail and sailing market niches.
Bruce started his sail making career in 1965 with Rolly Tasker in Perth Western Australia and since then has enjoyed a diversified path of sail making with his own company Bruce Hobday Sails, managing the Bainbridge sail cloth distribution business in France, creating and managing of North Sails in France, and managing as business owner the Hood franchise in the South of France for 16 years. Bruce also exerted as Southern Europe sales management for China Sales Factory from 2012 until 2015. Bruce has spent the last 5 years in Asia, notably in China. Bruce's driving idea is to take advantage of the favorable manufacturing environment in China to centralize sail manufacturing for a higher-grade sail product than is viably possible to build in the western world. Thus, leaving the local sailmakers to fully consecrate their activity on better servicing their own customers while developing their own designs and products.
Bruce's vast sailing experience from dinghies to maxi yachts is a valuable compliment to his sail making and business acumen and allows him to see a very clear path to the direction he wishes to take Sail East.
The new company is named Sails East Manufacturing Company Limited and is incorporated in Hong Kong. The factory is situated in Mainland China in Yantian Village, Feng Gang town, Dong Guan City.
For further information, please contact bruce@sailseast.com.

In 1960, Ben Hung started a small sail loft in suburban Hong Kong under the name Ben Hung Sails. Due to the geographic advantage of Hong Kong as an international hub of sea transportation, many ships would pass through the area. In the beginning, the loft's first business came from making canvas for ships and steamers. As time went by, Ben Hung became active in the Royal Hong Kong Yacht Club and Hebe Haven Yacht Club in the area, and began to supply sails to club members.
In 1965, Ben Hung Sails exported their first set of sails to the US, and started advertising in major sailing magazines in the USA and Europe, marking the beginning of a global business. Sailors in North America and Europe began to choose the sails for their high quality and affordability.
In 1973, the Dutch sails making giant, De Vries, came to Hong Kong and formed a joint venture with Ben Hung Sails. The new company was called Ben Hung & De Vries. The loft in Hong Kong grew to employ more than 40 sailmakers.
In 1980, after Ben Hung's Dutch partner retired, Sails East was formed.
In 1985, Sails East formed a partnership with Miami Sails in the US and began to design and produce windsurfing sails and accessories. Windsurfing sails become Sails East's second core business in addition to traditional keelboat sails and dinghy sails.
Three years later, with the Hong Kong loft at full capacity, Sails East built a brand new loft in China and tripled its capacity. The new loft introduced CAD and CAM capabilities, and applied laser-cutting technology to its production process.
March 2019, Ben Hung finally decides to retire and sells his business to Bruce Hobday who renames the company Sails East Manufacturing Company Limited, incorporated in Hong Kong. A new era begins.
Sails East is still one of the largest sail lofts in China and employs more than 100 full-time sailmakers.